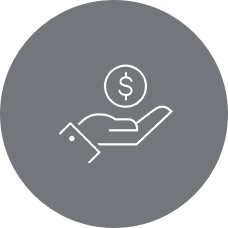 Leverages Interventions, Like Rental Assistance
Cleveland's Right to Counsel leverages interventions, like rental assistance.
Millions of dollars of rent assistance was available due to the COVID-19 pandemic. Legal Aid was able to secure rent assistance for 79% of Right to Counsel clients who had this goal.
Right to Counsel also leverages other community investments like Say Yes to Cleveland.  Say Yes schools in the Cleveland Metropolitan School District (CMSD) provide services and scholarships to eligible students to assist them with achieving their post-secondary education goals. Many students attending Say Yes schools live in households with lower incomes and may need supportive services.  Approximately 57% of children in Right to Counsel client households were attending Say Yes schools.