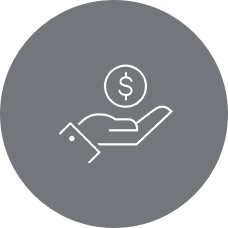 Leverage Rental Assistance
More than $28 million in emergency rental assistance was available for tenants in Cleveland, and approximately $17 million was distributed in 2021 (and approximately $11 million was left distribution as of year end 2021).
More than 340 of Cleveland Right to Counsel clients in 2021 (approximately 50% of closed Right to Counsel cases) had a goal of securing rental assistance, and Cleveland Legal Aid achieved this goal for 83% of these clients. Additionally, Cleveland Legal Aid referred more than 800 Cleveland residents to CHN Housing Partners (CHN) for emergency rental assistance.